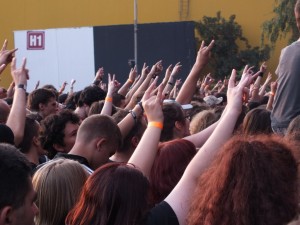 Rock The City a început ieri cu formațiile Goodbye To Gravity, Boon, Rezident EX și ziua s-a terminat cu Heaven Shall Burn, o formație germană de metal.
Nu am prins formațiile Goodbye To Gravity și Boon, dar Rezident Ex, Enslaved și Heaven Shall Burn au făcut un show foarte bun: comunicare cu publicul, au fost dinamici, s-a făcut pogo, wall of death si s-a incheiat la fiecare formație cu bis.
Nu am timp să scriu acum foarte mult despre concerte, dar las o galerie foto.
Amplasarea scenei a fost dferită față de anul trecut și mi s-a părut mai bine deoarece am scăpat de praf și este o porțiune de iarbă unde oamenii au putut sta pe jos, ascultând muzică.
Jetonul este 7 lei.
A fost o seară foarte faină, atmosfera a fost perfectă și peste câteva ore o să ii văd pe RAMMSTEIN!
Rock on!