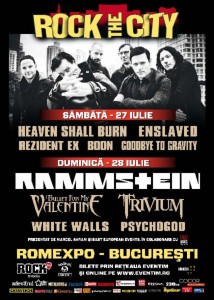 De câteva ore am ajuns în București pentru festivalul Rock The City. Anul trecut am venit pentru a-i vedea live pe Guns'n' Roses, iar anul ăsta pentru Rammstein. I-am ratat data trecută pentru că aveam bacalareatul a doua zi, dar de data asta nu am vrut să mai pierd ocazia asta. O să fie incediar, de-a dreptul.
Festivalul va avea loc la Romexpo, la fel ca anul trecut, o locație aridă, cu mult praf și care nu mi-a plăcut anul trecut, dar măcar eram aproape de Parcul Herăstrău și de locul în care a fost cazată.
Astăzi vor fi și formații românești, dar și străine.
Programul pe ziua de astăzi, sâmbătă, 27 iulie 2013:
15:00 – Deschiderea porţilor
17:00 – 17:30 – Goodbye To Gravity
17:45 – 18:30 – Boon
18:50 – 19:50 – Rezident EX
20:10 – 21:10 – Enslaved
21:30 – 22:45 – Heaven Shall Burn
Duminică, 28 iulie 2013
14:00 – Deschiderea porţilor
15:40 – 16:30 – Psychogod
16:50 – 17:40 – White Walls
18:10 – 19:00 – Trivium
19:30 – 20:30 – Bullet For My Valentine
21:15 – 22:50 – Rammstein
Abia aștept să merg și să văd cum va fi față de anul trecut când au cântat: Guns'n'Roses, Within Temptation, Evanescence, Machine Head, Black Label Society, Ugly Kid Joe ș.a.
Rock The City 2013 este organizat de Marcel Avram şi East European Events, în colaborare cu D&D East Entertainment.
O să scriu pe blog mâine și poimâine despre concertele de azi și mâine. 🙂
Rock on!